Sysmex West & Central Africa
Select your local website
Reference Ranges – and what Sysmex can offer
Sysmex very frequently receives requests for reference ranges for the CBC parameters.
Of course we are glad to provide you with a selection of literature, but reference ranges from different studies are only conditionally transferable, depending on age, gender, ethnicity, etc.
For this reason, the individuals who served as the basis for the selected reference range should be as similar as possible to the patient population to whom the reference range is to be applied.
Currently, there are several scientific publications that provide information about the reference ranges for Sysmex analysers (see table below). These studies were performed mainly using X-Class haematology analysers and it can be seen that the reference ranges differ according to the populations involved. Therefore, published reference ranges from older analysers may be used on newer analysers, but only after validation. Since – as explained above – there are differences between haematological reference ranges from different populations, the information in the table may facilitate the selection of an appropriate reference range as an initial point for validation.
Examples of reference ranges for Sysmex analysers
| | | | | |
| --- | --- | --- | --- | --- |
| First author | Citation | Analyser | Parameters | Population |
| van Pelt JL et al | Clin Chem Lab Med | XN-Series | CBC+DIFF+RET+PLT-F | Dutch |
| | Int J Lab Hematol | XN-Series | CBC+DIFF+RET | Belgium, adult |
| Wilson S et al. | Int J Lab Hematol | XN-3000 | CBC+DIFF | Canadian, paediatric |
| | Int J Lab Hematol | XN-3000 | CBC+DIFF | Canadian, paediatric |
| | Arch Pathol Lab Med | XN-1000 | CBC+DIFF+RET+PLT-F | US American, newborns |
| Arbiol-Roca A et al. | EJIFCC | XN-Series | CBC+DIFF+RET | Spanish |
Validation of Reference Ranges
Adopting a published reference range without validation is not permissible and can even be dangerous for patients. Its suitability as a reference must be examined in every case. To do this, the IFCC suggests the following procedure:
20 local reference samples are taken and compared with the reference range published elsewhere. If not more than 2 of the 20 samples are outside this range, it can be used. If 3 - 4 samples are outside the reference range, a further 20 new samples must be taken. If not more than 2 of these 20 samples are outside the range, it can be used. If in the initial verification, 5 or more samples, or more than 2 of a repeated set of samples, are outside the published range, it is not suitable for use as a reference for local patients. The alternative is then a new survey or validation of another, different reference range.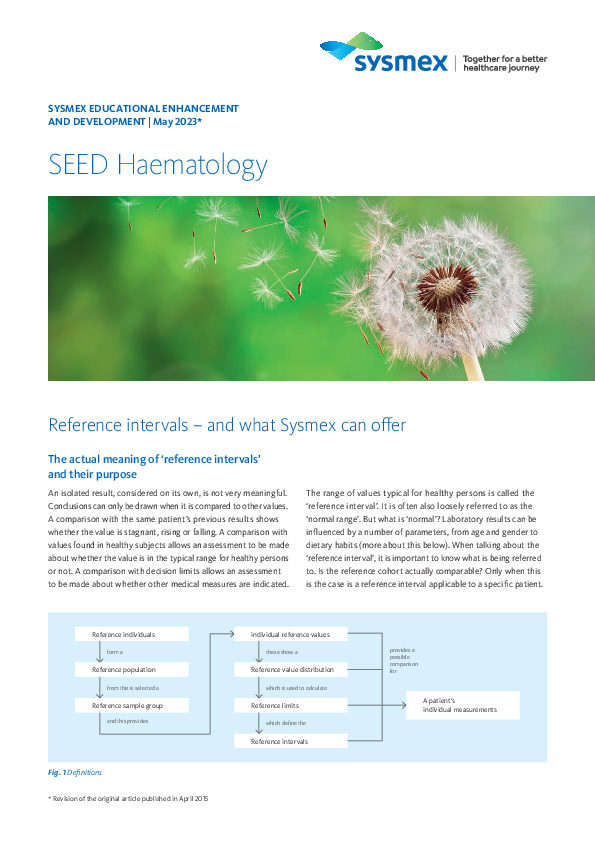 SEED: Reference ranges – and what Sysmex can offer
Reference ranges are essential for allowing conclusions on patients results. This SEED article explains how reference ranges are defined and how they can be obtained in the lab. The procedure to examine the suitability for reference values that were determined elsewhere is explained as well.