Sysmex West & Central Africa
Headquarters
Sysmex Group Companies
Select your local website
Analysing white blood cell differentials consists of a cytochemical reaction of the cells with a reagent set, followed by fluorescence flow cytometric analysis.
The specially developed lysis reagent initially perforates the cell membranes while leaving the cells largely intact. The fluorescence marker labels the intracellular nucleic acids (mostly RNA) in the second step. The composition of these two reagents effects a mild reaction with the blood cells, so that almost all of the blood cells' structure remains intact. Thus, optimal separation is achieved, particularly of lymphocytes and monocytes.
The prepared sample is then analysed using fluorescence flow cytometry. The measurement signals related to side scatter (SSC) and side fluorescence (SFL) are analysed and depicted in a scattergram. Cells with similar cytochemical properties fall within the same area in the scattergram and can be separated using an advanced software algorithm.
The WBC differential channel provides counts of 10 white blood cell subpopulations including immature granulocytes (IG) as well as flag information in cases of abnormalities.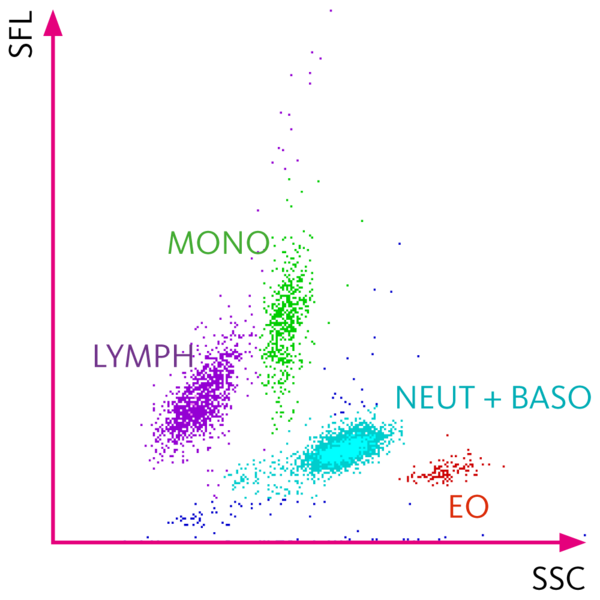 Enabled by 3-dimensional cell recognition, excellent sensitivity ensures malignant and reactive conditions are identified. Failing to do so has significant implications on the laboratory's workflow. And, of course, for patients' health.
Sysmex offers a comprehensive range of parameters and messages that provides valuable diagnostic information for the treating physician for diagnosing and monitoring infections and other reactive conditions.
The smear rate is under control, as the parameter IG allows already many of our customers to significantly reduce the numbers of smears – depending on individual threshold values.